VISION

The many wonderful memories of experiences spent during my own childhood and a critical look at the possibilities for continuous dance education were the catalytic factors responsible for the creation of MUDANCE.
It is my wish to provide a special, intensive and productive environment for those students who wish to delve into dance and search for their limits. The bringing together of international teachers and students, in a place offering peace, inspiration and space at a time when students are not burdened with their everyday obligations, is my aim.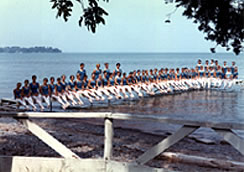 40 Years before.. Galina Gladkova Hoffmann; first on the left
At the outset of this project, the Castle of Villersexel was chosen for its unique location and atmosphere, the infrastructure was prepared and hosted the first 17 students. Former dance colleagues have assisted teaching, musician friends have given workshops and concerts and family members as well as friends have offered helping hands to launch the project. Since then, MUDANCE has grown and established itself as a place where intensive studies and relaxing fun complement each other.
My efforts are directed in making the programme offered, the quality of the instructors as well as the festival develop continually to make MUDANCE an unsurpassable element in the artistic and personal development of all of its participants.
Galina Gladkova-Hoffmann