DIRECTION
MUDANCE was founded by Galina Gladkova.
Born in Toronto, Canada to Adelaide and Nikolai, Russian émigrés who shared their culture and language with their family, she discovered her love of dance at the age of four and began her first lessons with Lessia Tuhay-Bey and Janet Baldwin. She completed her R.A.D. Advanced certificate with Gladys Forrester.
Summers were spent at the Banff Centre School of Fine Arts in Alberta. It was here that friendships with artists in both Music and Dance were made, which still exist today. Her pedagogical experiences began with Natalia Zolotova and Boris Rachmanin from Moscow who came to Banff on Arnold Spohr's invitation. During six weeks, 2 years repeatedly, Galina was interpreter and assistant to these great teachers during Masterclasses and rehearsals for the Banff Festival Ballets. Upon completion of her Grade 13 academic studies, she left Canada to continue her dance education in New York.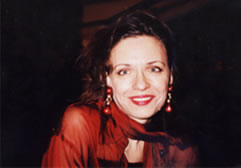 Galina received scholarships to the Harkness Ballet School and American Ballet Theatre School. Her teachers in New York were: Marina Stavitskaya, Elena Tschernichova, Valentina Pereyeslavic, Voytek Lowski, Robert Denvers, Nikolai Zhukovin (Character), and most fortunately, Sulamith Messerer.
After her first engagements in Puerto Rico and Williamsburg, she was invited by Heinz Spoerli to join the Basel Ballet bringing her to Switzerland in 1981. In this company Galina experienced choreographers like Spoerli and Hans van Manen and toured throughout Europe as well as the first two American tours of the Basel Ballet to New York.
Continuing her career as guest artist she worked with choreographers: Ricardo Duse, Jean Deroc, Cathy Sharp, Paula Lansley, Dietmar Seyffert, Tom Schilling and Armin Wild, many of whom created works for her.
She participated in pedagogic seminars in St. Petersburg, Moscow and Minsk, continued teaching children and company classes and created short choreographies. She completed her string bass studies with Yoan Goilav (Lausanne Conservatory Instrumental Diploma).
Galina returned to the Basel Ballet in 1991 under the new director Youri Vamos. The following seasons were filled with his full length ballets including tours to Israel, South Africa and America. As well, mixed bills from Nils Christie and guesting invitations for Swan Lake.
Quadriplegia suffered during a riding accident caused an abrupt end to her career. The long rehabilitation forced Galina into new orientations resulting in the founding of GALIMUDANCE and ultimately in the birth of MUDANCE - the first summer academy and festival taking place in 1999.
During Basel tanzt, the International Dance Festival, Galina has collaborated in diverse functions including bilingual stage manager for the guesting Mariinsky (Kirov) Ballet.

She has given ballet training for touring companies such as the Fosse Musical.
In 2001 Galina began the Masters Programme in Arts Management at the University of Basel, graduating in 2003 with a Masters of Advanced Studies Degree. Her research papers include "Dance Education in Switzerland" and "Dancer's in Transition". Her latest paper " Dance Education in Europe" was commissioned by the Arts Council of Switzerland for "Projekt Tanz".
She was a juror of the Kanton Basellandschaft Dance Development Prize and is member of the board of the Swiss Dance Association (SDT). She is member of the Swiss Classical Dance Teachers Association SBLV.
Galina is a regular lecturer for the Accident Prevention Programme of the Basel Police Department and Rehab Paraplegic Centre.
Her engagement for dancers continues in private coaching, career consulting and management.